Oil-less and water-less pumps that can accommodate up to 20 users and provide highest flow rate at every operatory, even with multiple simultaneous users.
Pumps only spin as fast as needed to deliver the best flow rates and slow down to save energy costs.
With multiple pumps systems, the advanced Master Controller alternates the primary pump every day, turns on additional pumps only when needed and balances the speed of multiple pumps. This reduces the stress on mechanical parts.
Automatic rinsing cycle cleans tank and prevents clogs.
Comes with Vision Monitor. Vision Monitor brings valuable information from your critical dental equipment directly to those who need to see it. Through cloud-based IoT monitoring, get live status updates, device messages, and the ability to provide remote support and configuration.
Available in:
V3M
V5M
V7M
2V3M
2V3MCT (dual tank)
2V5M
2V5MCT (dual tank)
2V7M (dual tank)
3V5M (dual tank)
4V5M (dual tank)
V15M
2V15M
3V15M
4V15M
Item #: i850ai0001

Air Techniques #:
Specifications

Model
Voltage
Pump Dimensions
H x W x D
Tank Dimensions
H x W x D
Max # of Users
V3M
220
17" x 25" x 21"
33" x 29" x 22"
3-5
V5M
220
17" x 25" x 21"
33" x 29" x 22"
5-7
V7M
220
17" x 25" x 21"
33" x 29" x 22"
7-10
2V3M
220
34" x 25" x 21" *
33" x 29" x 22"
6-10
2V3MCT
220
34" x 25" x 21" *
42" x 29" x 23"
6-10
2V5M
220
34" x 25" x 21" *
33" x 29" x 22"
10-14
2V5MCT
220
34" x 25" x 21" *
42" x 29" x 23"
10-14
2V7M
220
34" x 25" x 21" *
50" x 29" x 23" *
14-20
3V5M
220
51" x 25" x 21" *
50" x 29" x 23" *
15-20
4V5M
220
34" x 25" x 21" (x2) *
50" x 29" x 23" *
20-25
V15M
220 - 3Φ
23.5" x 32.5" x 26"
42" x 25" x 23"
15
2V15M
220 - 3Φ
23.5" x 32.5" x 26" **
42" x 25" x 23"
30
3V15M
220 - 3Φ
47" x 32.5" x 26" **
23.5" x 32.5" x 26"
42" x 50" x 23" ***
45
4V15M
220 - 3Φ
47" x 32.5" x 26" (x 2) **
42" x 50" x 23" ***
60
*Pumps/tanks stacked
**Pumps stacked
***Tanks side-by-side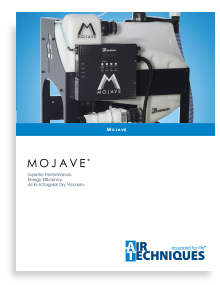 Mojave Monitor Vacuum Brochure